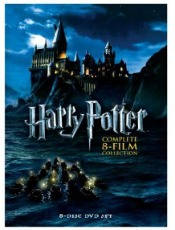 If you've got a Harry Potter fan in your house, check out this deal for the Harry Potter: The Complete 8-Film Collection
 from Amazon.  The box set includes all eight Harry Potter movies for just $27.99 (regular price – $78.92).
My son is a huge Harry Potter fan, and if Santa hadn't already brought him this same set last year, he'd be getting it this year! I'm not really sure how Santa pays for things, but I'm pretty sure he paid much more than $28 last year. 😉
The Harry Potter: The Complete 8-Film Collection
 ships free with Amazon Super Saver Shipping. Amazon prices can change at a moments notice, so this pricing may not last long!
AmazonLocal is offering a free voucher that allows you to download one of eight bestselling Christmas albums for $1.99.
Christmas albums available through this promotion are:
This deal is available to be claimed through Tuesday, and you have until December 2 to purchase the discounted Christmas album. Visit the AmazonLocal website to claim the offer.
Amazon.com currently has Just Dance 3 for the Wii for $7.99
. The game ships free with Super Saver Shipping on orders over $25.  Just Dance 3 is a favorite in my house with my kids.
Amazon will have the new Just Dance 4 for $25
 as a Lightning Deal starting at 7:10 p.m. this evening. The Lightning Deal offer is for all game systems, although a limited number of games will be available.
Of course, Amazon prices may change at any time.
Miss Jennifer from Green Bay Consumer is sharing her loot of free passes to the Kids Dream Winter Film Series at Marcus Theatres!
The movies are on Saturdays at 10 a.m. and Sundays at 11 a.m. through March 18, 2012. Admission is just $2, but you can win tickets here and get in for free!
The tickets were given to Green Bay Consumer from John Otis, American Family Insurance Agent. According to Jennifer, "John's been providing our family with our personal insurance needs for years. In fact, he was also my husband's insurance agent dating back to when I was in grade school!"
The remaining three weekends are listed below:
March 3-4 – Happy Feet 2
March 10-11 – Puss N Boots
March 17-18 – Alvin & the Chipmunks: Chipwrecked
Local theatres participating in the Kids Dream series include Eastgate Cinema (5202 High Crossing Blvd) and Point Cinema (7825 Big Sky Drive).
Complete the form below for your chance to win two free passes to the Kids Dream Winter Film Series. One entry per person–duplicate entries will be deleted. For your chance to win, entries must be received before 11:59 p.m. on Thursday, March 1.
This giveaway has ended–stay tuned for future chances to win at Madison Consumer!
Three winners will be randomly selected via Random.org. Winners will be announced on Facebook.
By entering the contest, you will also be added to the Madison Consumer email list to be kept in the loop of great deals in the Madison area.
Good luck!
In today's giveaway, three Madison Consumer readers will win a Family 4-pack of tickets to Olbrich's Holiday Express: Model Train and Flower Show.
Choo! Choo! Olrich's Holiday Express has pulled into Olbrich Botanical Gardens now through December 31, 2011. The annual show displays large-scale model trains, vibrant poinsettias, and lush evergreens.
Scattered throughout the show you will also find handcrafted birdhouses and stained glass panels. The whimsical birdhouses were hand-crafted by local artists, and glass artists from the Vinery Stained Glass Studio created 14 beautiful glass panels featuring an array of native birds.
Members of the Wisconsin Garden Railway Society bring their trains from all over Wisconsin. The trains may change depending on the day you see the show.
The show is open daily from 10 a.m. to 4 p.m.; however, Olbrich will close at 2 p.m. on December 24 and will be closed all day on December 25.
Admission Rates
Adults: $3
Children ages 3 to 12: $2
Children 2 and under: Free
Olbrich Botanical Society members: Free
Wednesdays from 10 a.m. to noon: Free Admission
Admission to the tropical Bolz Conservatory is included
For details on how to enter today's giveaway for a Family 4-pack of tickets to Olbrich's Holiday Express: Model Train and Flower Show, visit our 24 Days of Holiday Giveaways page.