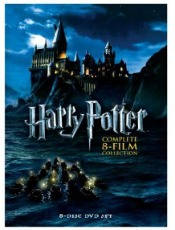 If you've got a Harry Potter fan in your house, check out this deal for the Harry Potter: The Complete 8-Film Collection
 from Amazon.  The box set includes all eight Harry Potter movies for just $27.99 (regular price – $78.92).
My son is a huge Harry Potter fan, and if Santa hadn't already brought him this same set last year, he'd be getting it this year! I'm not really sure how Santa pays for things, but I'm pretty sure he paid much more than $28 last year. 😉
The Harry Potter: The Complete 8-Film Collection
 ships free with Amazon Super Saver Shipping. Amazon prices can change at a moments notice, so this pricing may not last long!
AmazonLocal is offering a free voucher that allows you to download one of eight bestselling Christmas albums for $1.99.
Christmas albums available through this promotion are:
This deal is available to be claimed through Tuesday, and you have until December 2 to purchase the discounted Christmas album. Visit the AmazonLocal website to claim the offer.
The 42nd annual Holiday Art Fair at Madison Museum of Contemporary Art takes place this weekend.
Hours of the Holiday Art Fair are as follows:
Friday, November 16 ∙ 2:30–8 pm
Saturday, November 17 ∙ 10 am–5 pm
Sunday, November 18 ∙ 10 am–3 pm
At the Holiday Art Fair you will experience over 80 booths offering art, fine craft and gourmet food gifts. Also a selection of artists, a silent auction and entertainment.
Admission is $5, and ages 12 and under are free.
The Madison Women's Expo is back at it again this year at The Alliant Energy Center. Get ready for a fun weekend with the ladies in your life on November 17 – 18  from 10 a.m. – 4 p.m. both days.
The Madison Women's Expo has a whole schedule of activities, food tasting, and of course shopping. With over 100 exhibitors there will be something for everybody. From The Melting Pot to Pampered Chef to Ho-Chunk.
If all of that isn't enough there will even be celebrity guests; including Brad Goreski of "It's a Brad, Brad World" and Rachel and Dave Brown, Jr who starred in "The Amazing Race".
This wonderful time is $8 at the door but if you register online you can print a $5 off coupon making it only $3.
I am not sure about you but a day full of fun for $3 is something that excites me!
 I admit it.  I'm a sci fi geek.  Which is why I'm so excited to see this.  Amazon's deal of the Day in their Blu-Ray store–lots of Josh Whedon shows like one of my all-time favorites, Firefly, which starred Nathan Fillion of the TV show Castle.
Amazon also has specials on Buffy the Vampire Slayer: The Complete Series
–67% off,   Angel: Complete Series 60% off, and
Dr. Horrible's Sing-Along Blog [Blu-ray]
 62% off.
Firefly: The Complete Series [Blu-ray]
is 79% off today–only $18.49.
Firefly – The Complete Series DVD
 is also marked down 73%–only $13.49.
You can also pick up the conclusion of the series, the theatrical release Serenity [Blu-ray/DVD Combo + Digital Copy]
for only $8.00!
This post contains links which may earn Wisconsin Consumer compensation.  That means when you click the links, you help keep the site operating.  Thank you!  For more information, see our Disclosure Policy.