The Green Bay Packers' Pro Shop is having a rare online sale to help kick off the holiday shopping season.  The more you buy, the more you save.
Save 15% on purchases $75 – $99.99
Save 20% on purchases $100 – $174.99
Save 25% on purchases $175 – $299
Save 30% on purchases of $300+
The sale is good online only when you use the promo code SAVE12 at checkout.  The sale goes through November 3rd.  The discount is valid on regularly-priced merchandise only.
There are tons of fantastic Packers products for young and old alike.  Everything from Sideline Gear to Barbies, American Girl clothes, Packers bedding and more.
Bring kids (ages 5-12) to the 2012 Green and Gold Training Camp at Henry Vilas Zoo from 10 a.m. to noon on Saturday, July 14.
This free mini training camp will be led by a few Green Bay Packers including Donald Driver!
The kids will get a work out, and 10 kids will win an autographed football! Physicians Plus will also be giving away prizes–those who participate are automatically entered to win.
Physicians Plus started the Go! Get Out campaign in 2005 to encourage kids to be healthy and active.
To register for the training camp, simply complete and bring this form with you. NOTE: Registration closes at 11:30 a.m.
Thanks for the tip Green Bay Consumer!
The "Green Bay Packers Tailgate Tour" will be in Madison on May 16, 2012! The tour has five Wisconsin stops starting on May 15: La Crosse, Madison, Kenosha, Cedarburg/Grafton, and Sturgeon Bay.
Each party is supporting a local non-profit organization. Madison's party will benefit the Ronald McDonald House Charities. Tailgate admission tickets are $30, and the event is being held at the Alliant Energy Center from 6-8:30 p.m.
At the party, you will enjoy tailgating food, giveaways, and question and answer sessions. Celebrity guests include Charlie Peprah, Jordy Nelson, Mason Crosby, and Mark Murphy (Packers President/CEO). Also on hand will be Hall of Famers William Henderson, Larry McCarren, and Marco Rivera.
You can also purchase General Admission tickets for $5. These tickets include the question and answer sessions and the tailgate party activities. You will have to pay for food and drink.
Tickets are available at Ticketmaster or by calling 866-777-8932.
Thanks for the tip Green Bay Consumer!
GoGeddit is running a giveaway of their own right now–two tickets to the Packers vs. Lions game on New Year's Day!
Sit on the 50-yard line to see if the Packers can finish their season undefeated!
To enter, head to the entry page at GoGeddit. For every deal you buy at GoGeddit, you will get an additional five entries into the drawing. You have until December 31, 2011 to enter.
They also have four local deals right now:
Silver Leaf Design Gallery and The Jewelers Workshop are located at 301 North Sherman Avenue.
You could also win a $25 GoGeddit credit from Milwaukee Consumer today!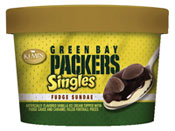 Kemps Ice Cream is a sponsor of the Green Bay Packers and has pledged to give away a free Kemps ice cream sundae to the state of Wisconsin if the Packers win today's Super Bowl. According to the Kemps Facebook page, if the Packers win, a coupon will be available to print out for a free Kemps Green Bay Packers Singles Fudge Sundae. Further details of the giveaway are not known, but Kemps says to "stay tuned to Facebook for details".
Thanks to the Bargain Sleuth for the heads-up on this deal!